On Tuesday, June 1, SDMNY was honored by the Association for Conflict Resolution of Greater New York. The Association for Conflict Resolution (ACR) is the preeminent national not-for-profit organization dedicated to enhancing the practice and public understanding of peaceful, effective conflict resolution. The ACR-GNY award was given for SDMNY's groundbreaking work in creating training for mediators and conflict counselors to resolve conflicts arising out of SDMAs—but also, more broadly, for how to effectively provide ADR to people with intellectual and developmental disabilities.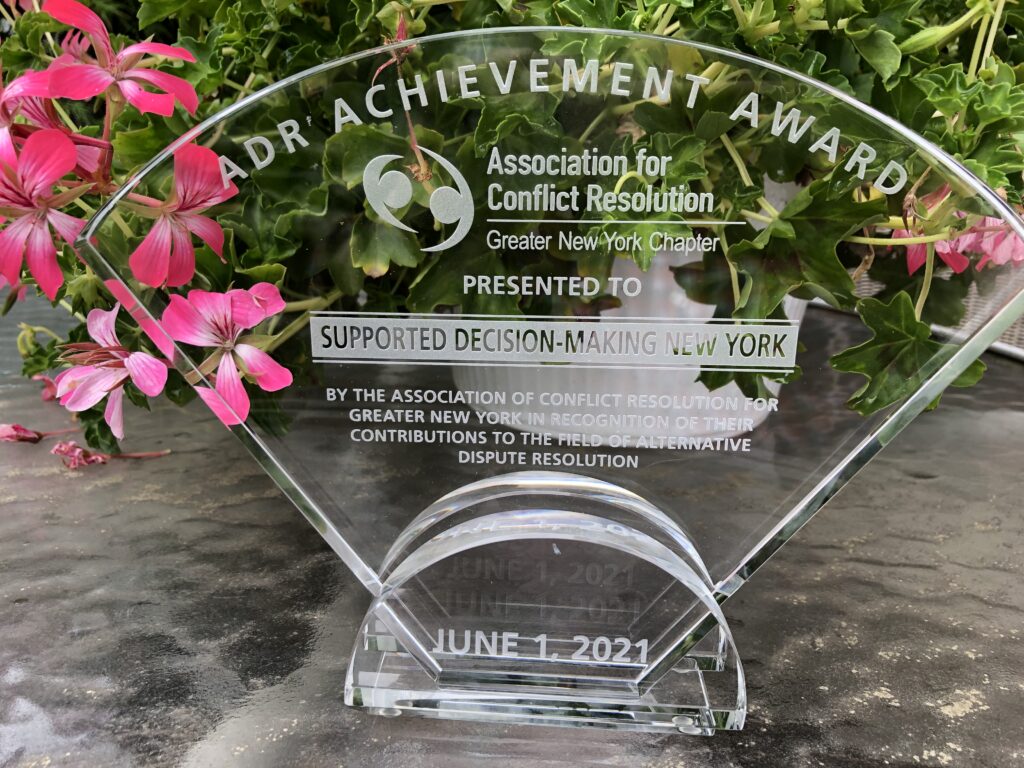 We've reported on our "Mediation Module" earlier and the amazing team that put it together was on hand for a 40-minute presentation (remotely, of course) during the kick-off event for ACR-GNY's 20th Annual Conference. They talked about the importance of including disability, especially I/DD, in conversations about diversity, and about the materials SDMNY has developed for mediators to recognize and overcome implicit (unconscious) bias against people with disabilities. The team included SDMNY Director Kris Glen, NYC Site Coordinator Joan Cornachio, Education Campaign Coordinator Naomi Miller, and two fabulous colleagues from CUNY Law School, Professors Beryl Blaustone and Sue Bryant. Fittingly, the presentation was opened and closed by self-advocate (and star of one of the Mediation Module training videos), Liv Smulyan, Joan's daughter!
We hope that the Mediation Module will be used by ADR providers across the country to assist people with SDMAs if and when conflicts arise out of their agreements. Being honored by this prestigious organization of ADR professionals surely won't hurt! Congratulations to the SDMNY team and our expert colleagues from CUNY Law School.